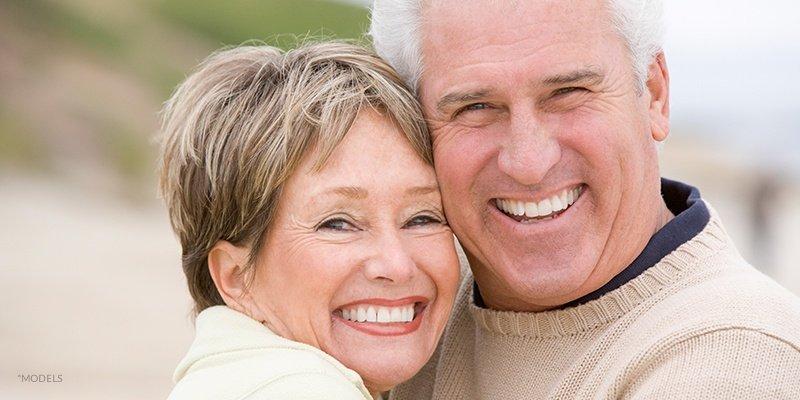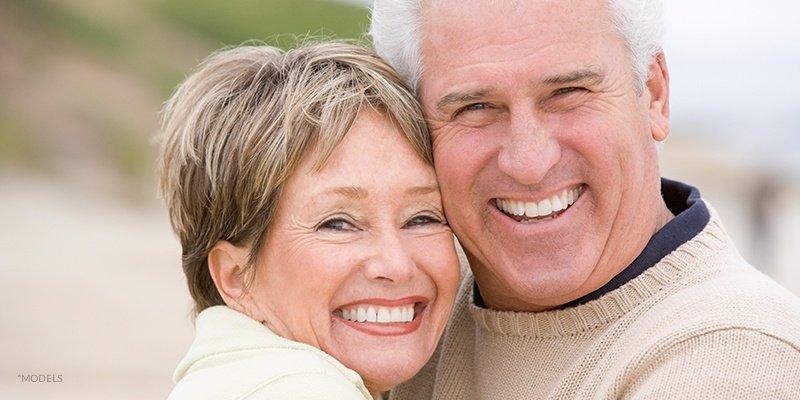 Everyone deserves to have a smile they are proud to flash anywhere they go. One of the main reasons that people are hesitant to smile is because of their teeth. Patients who have experienced tooth loss in the past, and are holding back their smile, as a result, should consider the innovative All-on-4 dental implant procedure. This procedure is similar to getting an individual dental implant, but can actually replace the entire upper or lower arch with just four implants. The end result is having a natural smile with a full mouth of natural-looking teeth anyone can be proud of.
Many patients don't like dealing with dentures. However, patients with missing teeth can't just ignore it. When patients visit our practice, we will go over the All-on-4 procedure with them in depth and explain the science behind the results, as well as what the patient can expect from the very beginning. Not only does the procedure provide aesthetic benefits, but there are many long-term health benefits associated with it as well.
How the All-on-4 Process Works
Our doctors will insert four dental implants strategically and precisely into the top or bottom of the jaw, or even both at the same time if patients need both arches replaced. What makes the All-on-4 process a permanent solution is the use of titanium implants that fuse with the existing bone in the jaw. Each implant will continue to fuse to the bone over time to give a solid foundation for the new arch of teeth. Once the implants have fused and set permanently, then patients can get their permanent teeth inserted. A dental implant bridge will be installed to create a brand new look and a full mouth of great looking teeth.
Comparing All-on-4 to Traditional Dental Implants
Patients who are familiar with traditional dental implants may not understand the advantages of the All-on-4 procedure. One of the main differences between the two has to do with the number of implants used. With the All-on-4 approach, only four implants are needed per arch. With traditional dental implants, up to eight implants may be needed per arch. Traditional dental implants also typically require bone grafting in order to ensure the procedure is effective, but due to the technology and the innovative technique with the All-on-4 procedure, no bone grafting is required.
Ideal Candidates for All-on-4
The ideal candidate for the All-on-4 procedure will have multiple missing teeth or could be missing all of their teeth on the upper or lower arch. If this is the case, the patient will likely already be using dentures, and are simply tired of dealing with them. The other main criteria is for the patient to be in good health. Age is not necessarily a determining factor in this regard. Our doctors will do a complete evaluation of every patient prior to doing any work, just to ensure the procedure will be successful.
Once patients get their new teeth, it's only natural to want to show them off to the world. When patients look in the mirror, they are ecstatic to see a mouth full of healthy and shiny teeth that only took one day to achieve. However, these new teeth still need to be cared for like real teeth for them to last a lifetime. In most cases, routine dental hygiene practices are sufficient. Brushing and flossing are always recommended, but our dentists will also put together a dental hygiene plan for patients to follow after the All-on-4 procedure is completed.
Enjoy Natural Looking Teeth for Years to Come
Since the All-on-4 procedure is a permanent solution for replacing missing teeth, patients can enjoy their natural looking teeth for a lifetime as long as they are cared for properly. With the implants being placed permanently in the jaw, the bone fusion process will prevent bone loss in the future. Not only will this help keep a patient's new teeth strong and healthy, but it will also maintain their youthful facial features. The benefits of the All-on-4 procedure go well beyond simply replacing missing teeth. It can truly transform a patient's life by improving their confidence and self-esteem.
At Fort Worth Oral Surgery, we want every patient who walks through our door to leave feeling great about their oral health. We enjoy performing the All-on-4 procedure because it essentially transforms a patient's life in a matter of a few hours. No one should have to go through life feeling self-conscious about their teeth, and our doctors are here to ensure it doesn't happen.
Whether you want to schedule a consultation or have questions about a procedure, we'd love to hear from you! Please fill out the form below and we will be in contact shortly.