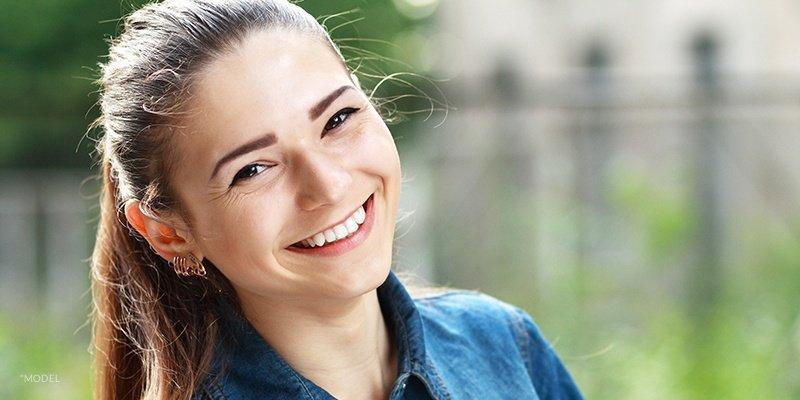 Why Would I Need Wisdom Teeth Removal?
By the age of 18, the average adult has 32 teeth; 16 teeth on the top and 16 teeth on the bottom. Each tooth in the mouth has a specific name and function. The teeth in the front of the mouth (incisors, canine, and bicuspid teeth) are ideal for grasping and biting food into smaller pieces. The back teeth (molar teeth) are used to grind food up into a consistency suitable for swallowing. The average mouth is made to hold only 28 teeth. It can be painful when 32 teeth try to fit in a mouth that holds only 28 teeth. These four other teeth are your third molars, also known as "wisdom teeth."
Why Should I Have My Wisdom Teeth Removed?
Wisdom teeth are the last teeth to erupt within the mouth. When they align properly and gum tissue is healthy, wisdom teeth do not have to be removed. Unfortunately, this does not generally happen. They may grow sideways, partially emerge from the gum, and even remain trapped beneath the gum and bone. Impacted teeth can take many positions in the bone as they attempt to find a pathway that will allow them to successfully erupt. When they are prevented from properly erupting within the mouth, impacted teeth must be surgically removed.
These poorly positioned impacted teeth can cause many problems. When they are partially erupted, the opening around the teeth allows bacteria to grow and will eventually cause an infection. The result: swelling, stiffness, pain, and illness. The pressure from the erupting wisdom teeth may move other teeth and disrupt the orthodontic or natural alignment of teeth. The most serious problem occurs when tumors or cysts form around the impacted wisdom teeth, resulting in the destruction of the jawbone and healthy teeth. Removal of the offending impacted teeth usually resolves these problems. Early removal is recommended for many Patients to avoid such future problems and to decrease the surgical risk involved with the procedure.
In most cases, the removal of wisdom teeth is performed under IV Sedation. Your options for sedation, as well as the surgical risks (i.e., sensory nerve damage, sinus complications), will be discussed with you before the procedure is performed. Once the teeth are removed, the gum is sutured. Patients rest under our supervision in the office until you are ready to be taken home.
Whether you want to schedule a consultation or have questions about a procedure, we'd love to hear from you! Please fill out the form below and we will be in contact shortly.
Dr. Kostohryz and all his staff are great Highly recommend! You'll be in great hands!

Dr. Kostohryz is wonderful. He is so kind and it's obvious that he genuinely cares about his patients. His entire team was great. From check in to check out the service was excellent. Highly recommend FWOS.


I have have one tooth at a time pulled.A good thing I wear a mask when in public. Not working now so I can have teeth pulled over period of time. I have been tramatized and spent fortune on root canals, caps etc over many years. I am now 72 and have receding gums, caps falling off etc. I think God for Dr. Scheidleman. He is brilliant and he CARES about his patients.He is patient and gentle. I feel confident and I am not scared. Five more to pull then implants. Thank you Dr. Scheidleman and God Bless. His office team also 😃👍 great.
Would love to rate much much higher than 5 stars! From the second I was welcomed, I felt like family. Dr.Runyon and his staff, were more than accommodating to my needs. Got me in immediately (less than 24 hours) for wisdom teeth extraction. Dr. Runyon even called me the night of, during his personal time to check up on me. I had no swelling- and even went to work the next day! Thank you all for all of your hard work. It doesn't go unnoticed. ♥️
I have the worst fear of doing anything with my teeth. Dr. k and his staff really knew how to make me feel comfortable and assured me that I was in the right hands. I had the best experience here and it definitely changed the way I dental treatment in the future. Thank you to the staff that were professional, punctual and so very kind. And a big thank you to Dr. K for taking such great care of me!! Highly recommend!!
Initial interactions were professional and thorough, I had two extractions for implants. My bone structure was good so no need for a bone graft. Dr. ScheidimenExplained the process in simplistic terms. The whole process took about 30-40 minutes. Shawna, my nurse patiently answered all of my questions and concerns. This was a very positive procedure. I am grateful to the team.

No nonsense, get er done dentist office made ya feel like everything will be OK, and they were right. Good job to all of you thank you. I will use yall for all my dentist stuff.
Dr. Scheideman and his staff were fantastic! I had a wisdom tooth infection and horrible pain and my dentist referred me to FWOS. They were able to fit me in for a consult within 2 hours of my dentist calling, which was amazing. Yesterday I had all 4 wisdom teeth extracted. The nurse/tech (I think her name was Jennifer) was super friendly and confirmed all my information and put me at ease to prep me for surgery. Dr. Scheideman checked on me before we started and was very comforting. He even numbed the spot on my arm where the IV was placed so I literally felt no pain for the entire procedure. I woke up a little dizzy and numb but pain free. I was sent home with thorough instructions, pain medication, and aftercare supplies. Dr. Scheideman even texted me to check in on me the next day. I am shocked how little pain and swelling I've had, and I feel surprisingly good! Obviously I hope to never have oral surgery again but if I did I would run to FWOS. 10 of 10. Would recommend!


I always have a hard time with dentists. I hate the tools and most of the time, I feel as if the staff is constantly judging me but the staff here is amazing! I came in today(they fit me in within 2 days) for wisdom tooth removal after an infection. My jaw had been shifted, couldn't eat, constantly in pain but they put me to sleep, pulled the two teeth, and walked me out to my car. All done within 15 minutes. I'm in no pain at all and even got a checkup text from Dr. Scheideman. I still have two more wisdom teeth to be pulled so I will DEFINITELY be using them again!
Best experience I have had with dentist / oral surgeon. Dr. Kostohryz did a phenomenal job helping my dad with his teeth extraction.